My nephew, Blake, who turns two years old in March, is a pile of dynamite, courage and perogies.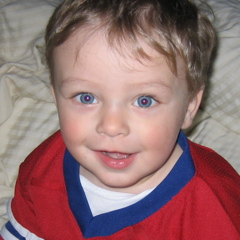 Blake's 'fight or flight' response is all 'fight' as, after a recent hockey puck incident to Blake's head indicated, Blake chased after his Dad (who was nicknamed "Rhino" during his rugby playing days for a reason).
This is payback for all the years of brotherly torture that I endured, and I'm enjoying every minute. In fact, I'm saving up for my nephew's drum set as we speak.
Blake's dad, and my brother, the good chiropractor Dr. Mark, was teaching Blake how to say his own name.
Mark: "Blake"
Blake: "Blake"
Mark: "Andrew" (Blake's middle name)
Blake: "Annnoooo"
Mark: "Symchych"
Blake: "Wwooww!!!"
And that's why my company name was changed from Symchych Consulting to  "SME Business Wealth Builder & Co."
Copyright 2011. Phil Symchych. All Rights Reserved.