Today, I have a pair of DUDS (dumb unilateral decisions) to share.
We just purchased new double doors for our kitchen as the old doors were 20 years old, had no "R value" and no "Low E" argon gas between the glass panes. Apparently, all new products come with initials.
Bill, an experienced carpenter with a ton of common sense, installed the double doors by himself, on a very cold winter day. He removed one door to make the frame lighter and easier to maneuver. It wasn't his first day on the job. Unfortunately, when Bill left, so did the common sense.
The next day, we awoke to find water running down the middle of the door frame that contained the metal locking mechanism for the divided door. The water turned to ice on the lower part of the door. Our old door never had ice on the inside.
As Canadians, we like winter (for the first 100 days) but we prefer it stay outdoors.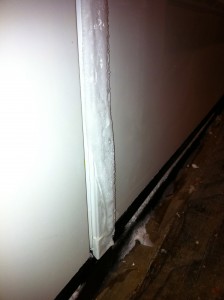 We called the home centre where we bought the door. They shall remain nameless at this point in order to give them a chance to rectify the situation (I hope). The store advised this might be a 'warranty' situation with the manufacturer. Immediately, I smelled a corporate run-a-round. I advised our guy we ordered a door, not a fridge, and we don't want a cold water dispenser and ice maker.
Then, I spoke with the warranty department of the manufacturer. The nice lady explained that their inspector will have a look at our door, and that we likely have a humidity problem. She must have psychic powers to be able to assess our humidity levels over the phone.
Smelling another corporate run-a-round, I advised her that our old door didn't make ice, but the new one does because the metal strip in the middle transmits the minus thirty degrees Celsius temperature into the house. It's our good luck to install a door when it's bitterly cold outside and test its R-value and Low E (and my patience).
Both the store and the manufacturer have to go through the process of inspecting the door – I guess to figure out how they can blame the customer.
I have advised both parties that we expect a full refund for this door, and to replace with a better quality product, and to pay only one installation charge.
I'm frustrated because I'm dealing with employees who are not empowered to make decisions. I'm sure they are intelligent, honest and hard working people. It's their managers and their company strategies that need fixing – after they fix our door!
I even heard a radio advertisement for the manufacturer that exclaimed their products are energy efficient. Sure, as ice makers! There was no electrical energy directly consumed in creating chilled water and ice.
The most successful luxury car dealerships, and many private businesses, thrive on customer problems because they get to fix the problem, exceed the customer's expectations, and strengthen customer loyalty. Business is based on long-term relationships.
Right now, no one is fixing my problem. Water is running on to my floor. These two major companies aren't even coming close to acknowledging my expectations, and my loyalty is dropping faster than the temperature.
How you treat your customers when things go wrong says a lot more about you, and your potential for future profitable growth, than any corporate vision statements plastered on the wall, fancy logos and expensive advertisements.
Maybe they should spend less time on initials and more time on customer service!
I'll keep you posted.
Copyright 2011. All Rights Reserved. Phil Symchych