Well, it's been a cold and frosty winter, inside our house!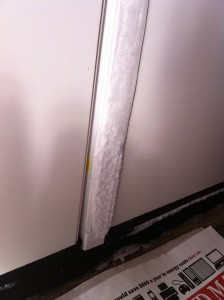 We purchased a new double door for our kitchen. Immediately upon installation, there was an ice build up on the inside of the house. The metal piece separating the doors was freezing cold inside the house. Any humidity turned to ice on the door. There was frost across the bottom of the door, even after their technician's adjustment. This wasn't good.
After numerous photos and videos sent to the manufacturer (Jeld-Wen), and our requests for specific repairs according to verbal agreements and email exchanges, the manufacturer has agreed to provide us with a full refund in accordance with their warranty policy.
To their credit, Jeld-Wen had offered to replace the defective piece with a more insulated piece that they were confident would correct the problem of a lack of thermal barrier. Why they sent a non-insulated piece to Saskatchewan, we'll never know. The windows in the door frame are awesome, so we can attest to their insulating quality.
However, it was their overall frustrating process, lack of responsiveness and blaming others that drove us crazy and made accepting their refund offer an easy decision.
I'm truly disappointed how a once entrepreneurial and now internationally successful company like Jeld-Wen, with great products and over 20,000 employees world-wide according to their website, treated us. I'm not sure that the Canadian response – a refund – will be consistent with the American parent's desire for sales, especially during a recession and a tough economy. A letter to the president, Rod Wendt, might clarify that.
We are looking at replacing all our windows in the next year or two. I wonder who lost a $30,000 order?
We were told that our humidity was too high, even though the technician said his gauge wasn't working properly. We were told that it was the retailer's fault for ordering the wrong lock set, which we acknowledged, but the manufacturer wasn't willing to collaborate and correct the retailer's problem, with whom they probably make lots of money.  It seems that we, the customers, or our humidity, or our persistence, were the problem.
Any Ritz-Carlton hotel employee can spend up to $2,500 to resolve a guest's problem, regardless of cause. Last week, we were staying at the Ritz-Carlton and were having their breakfast buffet. I mentioned to my wife that the eggs benedict weren't hot. The waiter overheard, brought me fresh eggs benedict from the kitchen, and deleted my breakfast charge from our bill. His actions greatly exceeded my expectations. It was my third stay at a Ritz-Carlton, and it won't be my last.
Lessons for business:
A customer complaint is to be welcomed because it provides you with a huge opportunity to strengthen your relationship, differentiate you from your competitors and create an advocate and referral source. The best Mercedes Benz dealerships welcome customer problems because they get to solve them and delight the customers.
Don't get defensive! It's a sign of insecurity, you know.
Ask the customer what will make them happy. Then, shut up, listen, and do it.
Fixing a small problem quickly will save time and money in the long-run.
Taking responsibility and offering to collaborate are signs of maturity and class. Blaming others, not so much.
Creating a timely action plan, then implementing it and reporting on the results, will reduce your customer's frustration.
Unhappy customers will complain to a lot of people. Happy customers, on the other hand, will also tell a lot of people. Which story do you want told?
THINK: Lifetime value of a customer!
Be prepared with a customer complaint strategy. The investment will be worth it. Or, continue to spend piles of money on advertising trying to attract another new customer.
Wouldn't keeping the customers you've got be a smarter choice?
Copyright 2011. All Rights Reserved. Phil Symchych