"Profits are the reward for good strategy, good decisions, and good actions."
—Phil Symchych
(Please write me let me know what you think of this new shorter format.)
If you're playing defense, you're not going to win. Tough times, especially these times, will reward those who play offense, who play to win.
Today, I want to share ten powerful and pragmatic processes to play offense and help you grow your profits in any economy.
Figure 61.1 Ten Ways to Increase Performance and Profits in any Economy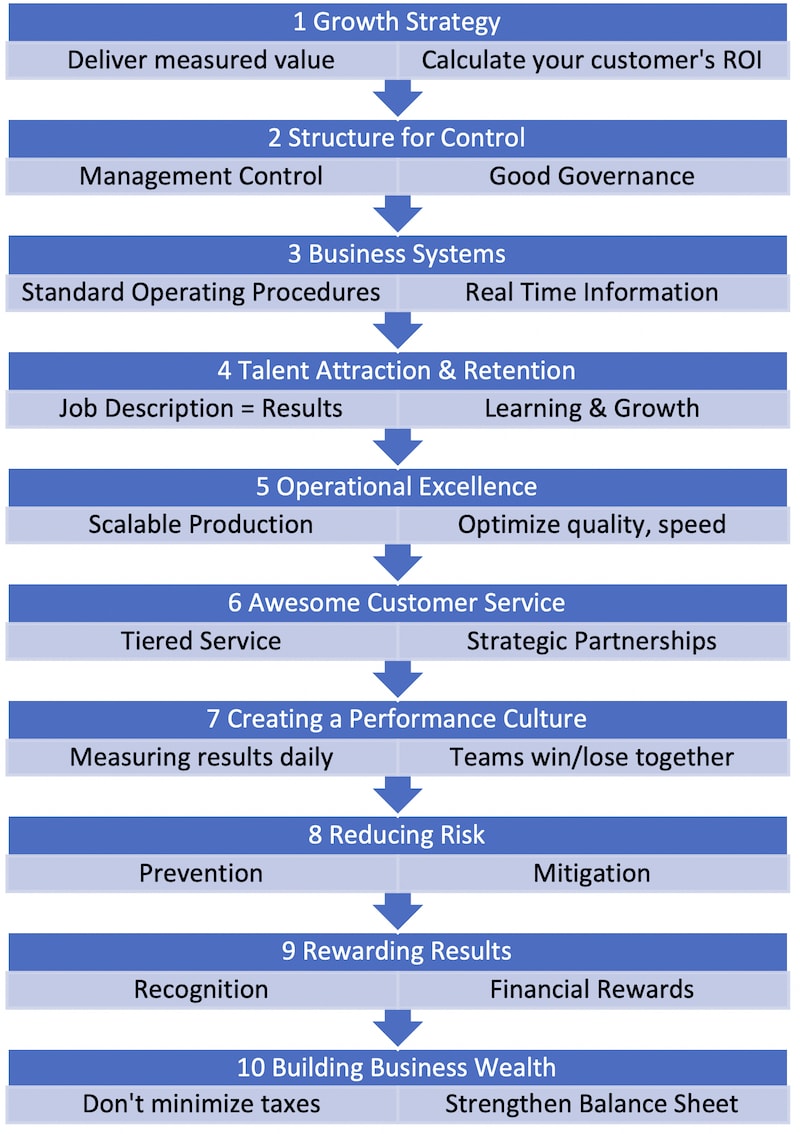 If you'd like to discuss how any or all of these ideas can be applied to your business, give me a call.
Growing your profits is about:
increasing the value you provide to your customers
enhancing the market's awareness about your valuable products and services
improving the efficiency of your production and delivery
proactively helping your best customers and prospects to achieve their goals, and
continually strengthening your balance sheet and financial foundation.
Remember, "You can't shrink your way to greatness," as Tom Peters, the author of In Search of Excellence, says.
Growing your profits is about growing your business. If you're not intentionally growing, you're shrinking. Shrinking can force you to play defense. It's up to you to decide to play offense.
Are you focused on growing your profits and playing offense?
There are opportunities to capture new customers and acquire market share that exist now that may not exist again until the next economic disruption. It's time for offense!
Special Announcement:
Global Business Advisors Forums
I'm in the process of creating an exclusive global online community of small/medium enterprise (SME) business owners and business advisors. The Forums will enable people to share ideas, ask questions, seek advice, and build a community of global peers committed to learning and sharing in a safe environment.
We have a free public board here (full url: https://www.businessadvisorsforums.com/categories/crisis-management-discussion) where you can read information and perspectives on current issues. This board currently has timely information on crisis management.
If you'd like to read information on other current issues in the future, please let me know the topic of interest.
If you're a business owner, a business advisor (accountant, consultant, lawyer, etc.), or a banker, and would like access to this global community, please drop me a line and we'll see if you qualify and where you best fit.