"If your business is not on the internet, then your business will be out of business."
—Bill Gates
Today, I want to focus on how we can use technology and the internet to grow your business and build your business wealth.
Here are four ways to enhance your online presence and business offerings:
Relevance – Provide free content that is useful and valuable.
Relationships – Build trust with new prospects by offering them free and low-cost products and services.
Risk – Demonstrate how you understand the customer's risks and what you are doing to reduce them.
Results – Discuss the results you create for your customers and have your customers tell their success stories.
Figure 60.1 How to enhance your business online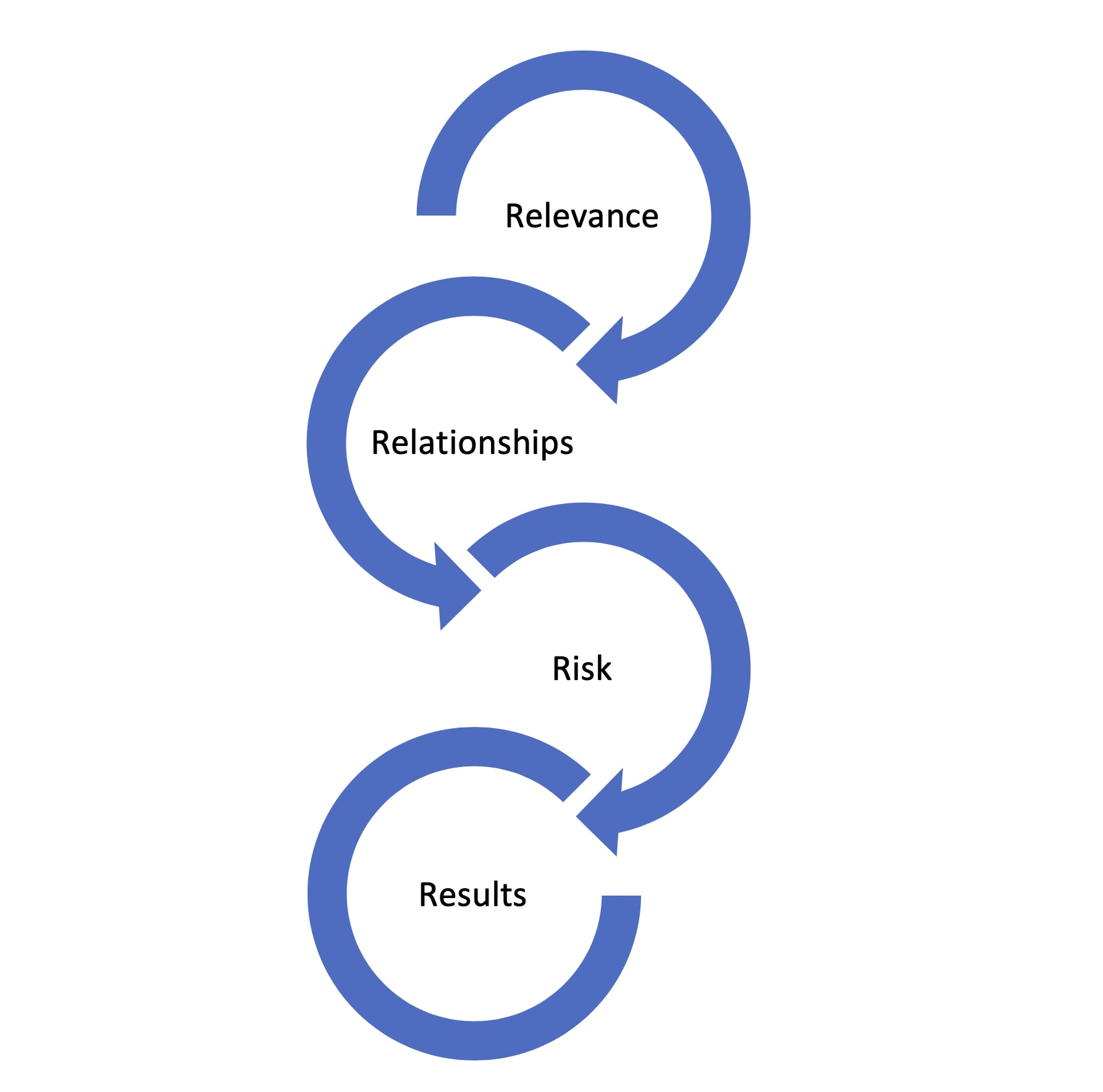 1. Relevance
Does your website clearly state how you help your clients and customers improve their situation, solve problems, pursue opportunities, generate results, and be better and faster?
Too many websites talk about methodologies and technical expertise of the company. We need to discuss the benefits and, more importantly, the emotional upside of achieving results and, most importantly, the quantifiable results we deliver.
If I'm looking for a lawyer, I want to know they have experience helping people solve problems, can communicate clearly, are strong at simplifying the complex, and are comfortable negotiating with Godzilla or King Kong.
When I'm looking for a car mechanic, I want someone I can trust to do what's needed now and recommended when other things will need to be fixed. I want peace of mind knowing that my daughters' vehicles won't end up broken down on the side of the road when they're coming home from a late-night shift at work.
Some newsletters (hopefully not this one) spend more time selling than helping. That's not a newsletter; that's an advertisement.
How do you clearly communicate your relevance online?
Being relevant is about helping people. Being relevant is about educating, and perhaps even entertaining people. It's about investing in your prospects and clients before they invest with you.
2. Relationships
My mentor, Alan Weiss, has always stated that "We are not in the consulting business, we are in the relationship business."
Every business needs to connect with their customers and clients. They need to understand their needs, wants, and emotions, and then, with permission, offer solutions.
Our websites, videos, blog articles, podcasts, and social media posts can all help to strengthen relationships, or not. If you waste people's time with poor content or confuse people with technical mumbo jumbo, you will hurt the relationship.
One of the reasons why people discounted the negative messages about the virus being communicated by the media is that we don't trust the media to be objective. They have been focused on negative news for so long that we don't know whether they're crying wolf or truly sounding the alarm.
"The more you deposit in the relationship equity account, the stronger the relationship."
Focusing on understanding your prospects and clients takes time. The investment is worth it.
3. Risk
One of the most important roles we have in selling anything to anyone is demonstrating how we reduce the customer's risk. The customer has choices. Often, they don't have the experience or expertise in knowing how to evaluate our products, service, rapport, knowledge, business model, or value.
How would I know if my lawyer created a good contract? How do I know if my banker is offering a good deal? How do I know if my marketing consultant knows what he's talking about?
The most effective way to demonstrate how you reduce risk is to have your customers speak for you. Customer testimonials, whether written, audio, or video, have significant credibility. Do you have testimonials available for your prospects?
Another effective way to reduce risk is to provide your prospects with reviews from your customers. Encourage your happy customers to leave positive reviews on social media.
If I'm considering a new piece of camera gear, I trust the reviews at B & H Photo more than any other site.
We are always trying to reduce known and unknown risks. It's the unknown risks that cause paralysis.
What methods do you practice to identify and reduce your customer's risk?
4. Results
One of my main tenets of strategy is that we must quantify the value of our results and communicate these with our prospects and clients.
When you focus on a transaction or a sale, it's difficult to measure your impact and results, because you're already chasing the next sale.
When you follow up to ensure your customer is happy, you can discuss what results they've achieved and how those results impacted their business and them personally.
Again, having our customers talk about the results we obtained for them, and not about our methodologies, is very important in marketing and building your online reputation.
What are the quantifiable results you help your customers to achieve?