During the greatest annual sporting event in the U.S., amidst the running backs who don't fall down and the quarterbacks who take a beating and keep on ticking, the Superbowl commercials have spoken.
The toughest hits of the night were delivered by the big budget world of TV advertising:
Bud Light – makes fun of itself with ridiculous product placements in a spaghetti western.
BMW – it's 'designed in America, built in America' emotional and patriotic promotion for the new X3 sport utility vehicle. BMW will supply the world with X3s from its new South Carolina plant.
Coke – turned a fire breathing dragon into a sparkle shooting, happy creature. Now this might be a great product in certain corporate environments. I wonder how many bosses are going to receive a Coke on Monday?
BMW – "Diesels are changing" ad showing the power of its 335d model passing smoky, slow, old diesels from the past. Changing perceptions. Diesels are the predominant engine in Europe where people have been more environmentally conscious than us for decades. They've got lots of power, are clean burning, and the fuel is available everywhere.
Chevrolet Eco – hilarious conversation in a senior citizens home about the residents' interpretations on the car's 42 miles per gallon and other features.
Doritos – creeped me out with the crumbs on the fingers.  Too weird for me, but I'm not their target market.
Bridgestone – an office guy sent an email and 'replied all' only to realize he shouldn't have. He then took drastic action to collect all the computers from everyone that received the message, from board room meeting attendees, to commuters, to cell phone users, to some guy checking his mobile while on a hike. Great stuff that many of us have probably felt during a 'reply all' moment. It's a funny spot but a bit of a stretch for a tire ad.
Half-time update: The Black-Eyed Peas put on a great show, despite periodic sound problems, with guest spots by Slash and Usher. Our kids, who are dancers, were very impressed with the hundreds of dancers on the field.
Even Lola, our chief morale officer, enjoyed a T-bone during the game.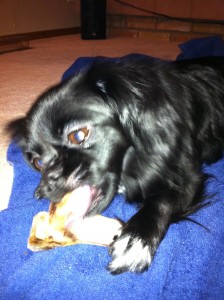 Best Buy – promoting networks and stuff (I think), Ozzy asks 'how many G's are there?' and 'what's a Bieber?'
Carmax – a guy drives his modern SUV into an old-fashioned service station from the 1950s and thinks he's being carjacked because of all the attendants handling his car. "Service shouldn't be a thing of the past" is a great message.
Chrysler – Luxury 'imported from Detroit' message was based on the tough times the motor city is overcoming.
Business lessons:
Pain and creeping people out can create negative associations.
Humour is good if you want to entertain people but it doesn't make your message stick.
Appealing to patriotism can elevate and differentiate you.
Educating your customers, possible with an emotional hook, resonates the best.
What were your favourite commercials?
Copyright 2011. All rights reserved. Phil Symchych.