The first step in formalizing your business strategy is not a SWOT analysis, it's not looking at your competitors, and it's not a five percent increase over last year's results. The first step in setting your business strategy is to ignore your current reality and talk about your ideal future state.
By that, I mean this. Describe how you can optimize the business value and the results that you create for your ideal customers and clients. Describe what kind of tangible, intangible, financial, operational, market, emotional, and personal results and benefits you generate for your customers. It's not about you. It's about your customers.
Fig. 9.1: The Strategy Variables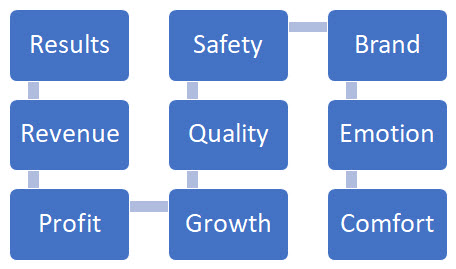 For example, I help high-growth mid-market companies to achieve double digit growth with significant improvements in profitability and dramatic boosts in valuation.
In fact, since we started working together several years ago, one of my clients has generated new revenue, above the level they had before we started working together, of more than $420 million.
Yep, that's a big number.
Your strategy is not based on the technical work you do every day. Your strategy needs to be firmly based on the value and results you create for your customers and clients.
The more value you provide and results you deliver—and can quantify—the less fee sensitive your customers will be. The more that you deliver results, business outcomes, and emotional comfort (they are all related), the more loyal your customers will be and the more you will become their single source supplier and partner.
Fig. 8.2: The Fee and Value Equation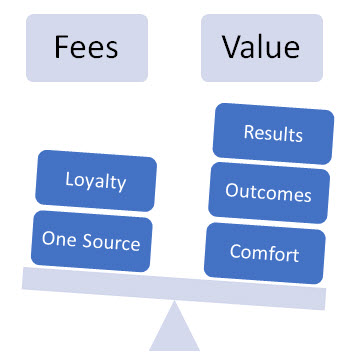 Here are a few questions to help you assess and understand your value and results. If you'd like the full list of 50 questions, just send me an email.
How do you help your customers and clients to:
Make their customers happier?
Increase their top line revenues?
Increase their bottom line profits?
Improve their cash flow and total days to cash?
Enhance their financial management and performance?
Keep their shareholders happy?
Increase their speed and customer delivery?
Improve their quality and reduce errors and rework?
Attract more clients and customers of the type they want?
Retain their best customers?
Bonus question: Be happier?
The first step in Six Hour Strategy® is to identify how you can help your customers and clients be more successful. This includes both hard business results and even more powerful emotional outcomes and benefits.
Your ideal future state clearly describes the value and results you create for your customers. It includes subjective and quantifiable business outcomes like revenue, profit, cost, speed, quality, and volume. It also includes objective and difficult to measure by very important factors like success, brand, attraction, comfort, and happiness.
By creating a strategy that clearly communicates both types of factors, you will have more success at growing your business because you're more focused on growing your customers' businesses.