"Engaging your team requires time and energy, not money."
– Phil Symchych
Throughout our working lives, we've had positive experiences of working for great bosses and also positive, well, valuable experiences working for terrible bosses. The latter just didn't feel very positive at the time, did it?
What were the differences between your great bosses and your terrible bosses? I'll tell you the main difference: great bosses engage their people to help achieve the company's mission. Terrible bosses engage their people to leave.
In my personal experience and also from working with business leaders, owners, and founders for 26 years, there are four factors that great bosses used to engage their people.
These factors all result in higher engagement, increased employee loyalty and performance, and improved retention.
The four factors are an intentional recognition and alignment of:
Work tasks – what you do on a daily basis.
Physical environment – the place we work and the equipment we use. Let's call this Tech.
Team culture – how the workgroup interacts and connects with each other.
Communication – the flow of information up, down, across, and in all directions in a company. Let's call this Talk.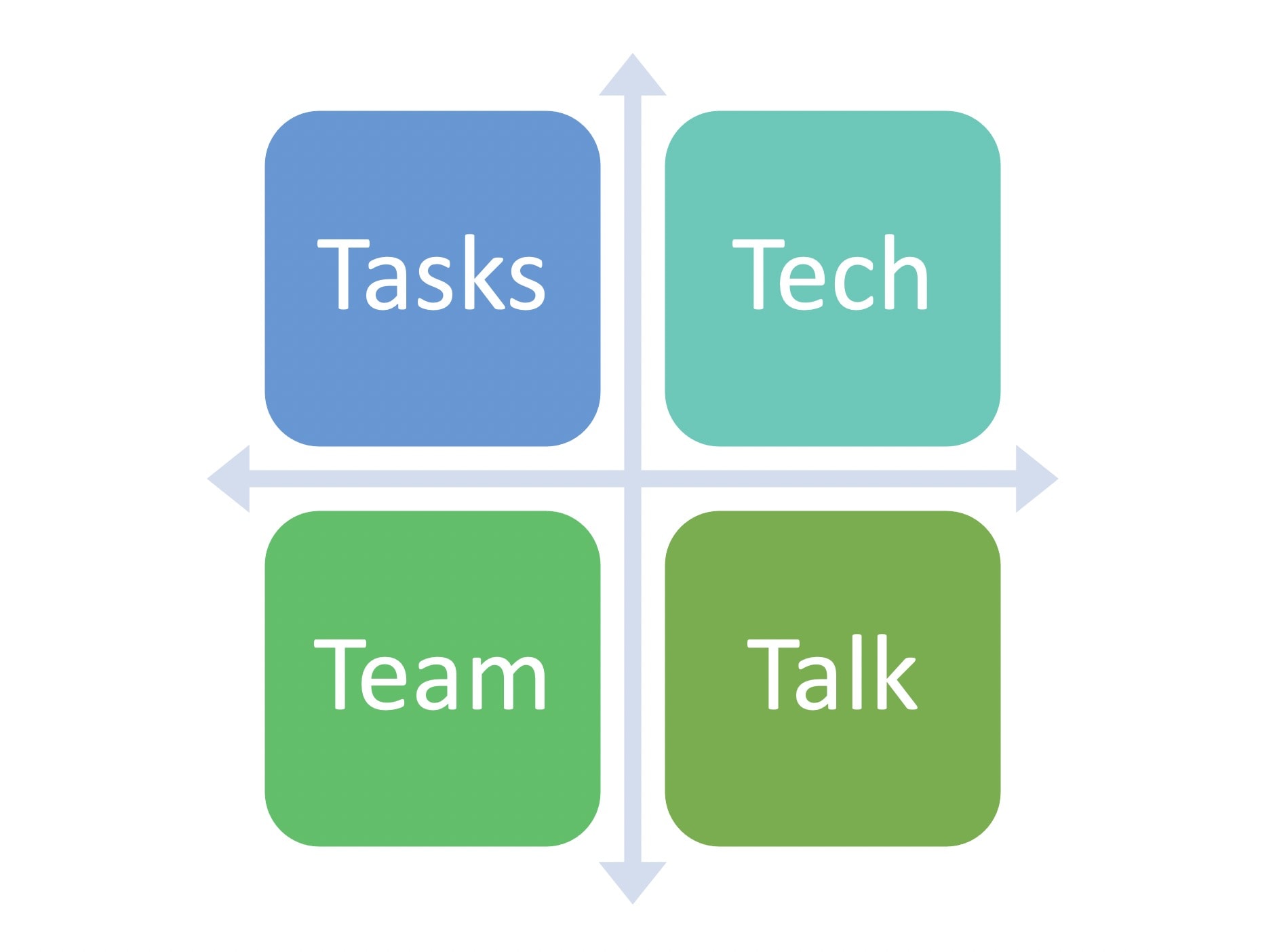 "Culture eats strategy for breakfast."
– Peter Drucker
We all know we have to do tasks every day. Some are interesting and challenging. Some are not. How do you make sure your team is:
Doing the right tasks
In the right way
Without micromanaging, and
Without telling them how to do things?
Are the tasks focused on advancing your strategy and creating value—ideally measurable value—for your best customers? If not, you may need to realign your tasks.
The Tech and physical environment are the easiest things to control yet often receive low priority. From computers to ergonomics to lighting to the now very important issue of air quality, how are you optimizing your team's Tech?
When we played sports as kids, we won or lost together as a team.
Does your business celebrate team wins and losses? Or do you celebrate superstar individual performance in the hopes that will inspire the rest of the team to perform at that level?
Every meeting is an opportunity for you to strengthen your team, increase inter-dependence, and improve overall business performance. Is this how your team sees your meetings?
Finally, let's talk about talk. Your front-line employees want to hear from you. Almost every leader I've ever met under-communicates with their team, and this is according to their team. At big companies and even not-so-big companies, it's impossible for the leader to speak to everyone in person. However, it's not impossible for the leader to communicate regularly with everyone.
When was the last time you addressed all of your employees? You can do this in a regular email and even more easily now using chats in Microsoft Teams. You can post videos from your desk using Zoom or from your phone. You can share your vision for the future and get your employees excited and engaged. Or, you can assume everyone knows what you're thinking…but they don't. So, what are you going to do about it?
Engaging your team takes time and effort to let them know—and show them–you care about them. Remember to celebrate wins and learning experiences and share your vision and excitement for the future.
How are you engaging your team? Let me know by email.
Full speed ahead!
Thanks for reading.