Do your clients and customers know all the ways you can help them to increase revenues, decrease costs, accelerate speed, save time, improve service, decrease stress, and live better lives?
I didn't think so.
You're not alone. Neither do mine (that's one of the purposes of this newsletter – to educate). Neither do many of my clients' clients.
Although it may be impossible to educate everyone in all the possible ways you can help, it's important to be able to summarize your top value offerings.
For example, I help mid-market companies to accelerate profitable growth, to finance the growth, and to develop and implement succession plans that create and protect business wealth for shareholders.
Figure 52.1 My business model.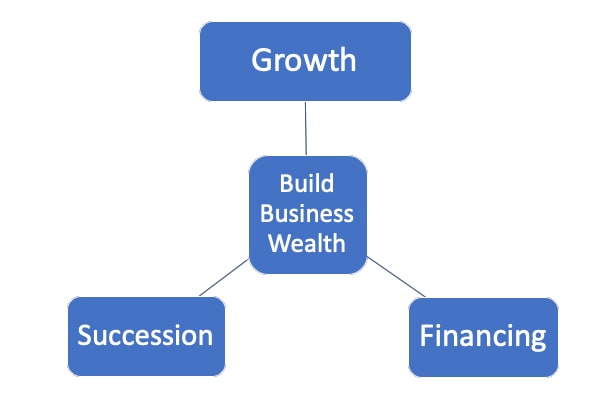 How can you summarize and demonstrate your key products and services visually?
On a recent call with one of my international business consulting clients, we discussed a very common topic: the importance of educating our clients and customers on the different ways we can help them achieve their goals, grow their businesses, and improve their lives.
This is marketing at its best—educating and helping people.
Figure 52.2 The educate and demonstrate model.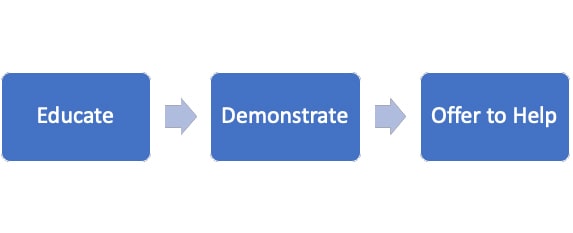 Here are ten ways to educate your customers and clients on how you can help them.
Understand that you're not selling or taking orders, you're helping your customers to increase their success. That's a mindset shift.
You are not an inconvenience or an imposition to them. Yes, they're busy in their day-to-day operations, and you're busy, too. But if you can help them improve, they will be interested to hear from you.
It's often difficult to start building a relationship with a new prospect. If you proactively offer value to demonstrate credibility, that will accelerate the relationship building phase.
Use value and speed to cut through the noise and static of the daily operational gravity.
Proactively share ideas (more demonstrating) with your best customers and clients. Yes, there is some free consulting here. This will help you to break through their daily operational gravity to focus on longer term priorities and benefits of working with you.
Make your results and success visible. If you can demonstrate what you do with a video, do so.
Ask your clients to give you video testimonials that describe how you helped them. That will enable other people to paint themselves into your picture and see how you can help them.
Proactively share advice, stories, and useful information with your customers, peers, referrals sources, and everyone you know.
Keep in regular contact with your customers, former customers, and prospects. Call them up to ask how they're doing on their goals for the year. Take them for lunch. Visit their place of business to see what's new. Send them articles of value. Send them a regular newsletter.
Demonstrate your value. Marshall Goldsmith is the world's most recognized executive coach. He also is the most generous person I've ever met in terms of sharing his intellectual property for free. He once coached a group of us at a dinner. It was fascinating to watch as he went around the table and helped each person, one on one. The man truly has a gift for coaching and helping others and he shared it with all of us.
How are you educating and helping your customers and prospects?
Every interaction with a client or prospect is an opportunity to give them something of value, educate them on how you can help them or others, and strengthen your relationship.
Now, it's time to help.
Once you've demonstrated value, then move to identifying a specific opportunity to help your client. Offer to create a proposal for the specific opportunity. Send them the proposal within two days or less and follow up in another two days. You've already been proactive by educating them and giving them value. Now you need to be proactive by offering to help.