I came home from a long day of work only to receive strict orders from Julia, our youngest and creative in many pursuits, to 'put your briefcase down and close your eyes because I made you a Valentine's surprise.'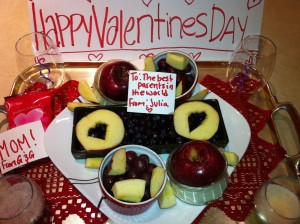 Julia's surprise featured a homemade fruit tray of apples with hearts cut out, grapes, blue berries, fresh whipped cream, candles and wine glasses. It's very heart healthy.
Her card said 'To the best parents in the world.'
Thanks, Julia!
Happy Valentine's Day!
Copyright 2011. All Rights Reserved. Phil Symchych.