In my 27 years of experience, I've deduced that succession planning starts in one of four places, if it actually starts at all. They are:
Kitchen table
Board room
Emergency room
Funeral home
As you can imagine, the last two places aren't very good. In fact, the National Post published an article I wrote on succession planning a few years ago, and they put in a picture of a hearse. I think they made a difficult topic even worse, judging from the responses I received. So, no photos in this edition.
The statistics are just as scary. A recent study by CIBC estimates that seven out of ten family businesses do not have a written succession plan. Also, three-quarters of family businesses don't survive past the first generation.
Now 80% of business owners think they have a succession plan because they thought about it once or twice. Perhaps they doodled something on a napkin or envelope, relieved their anxiety, and then got back to work.
Thinking and doodling do not constitute a succession plan.
The starting point is for you to determine what you want from life. You can create an instant legacy, protect your family's wealth, and minimize the nasty tax man by properly planning your business succession.
Have you properly planned your business succession?
When I worked with EMW Industrial several years ago, the founders, Ewen and Shirley Morrison, first met with me at their kitchen table. Shirley made the best carrot cake I've ever had! We worked together to help Ewen and Shirley bring 15 employees, some of whom were family, into the ownership group.
In one big boom, we had instant succession planning implemented for both ownership and management, much to the delight of EMW's huge global agri-business and mining clients. From that point on, and while working on strategy, the company took off, grew dramatically and generated additional new revenues $423 million.
Good succession planning supports growth!
To begin, it's important to be aware that the process is a "succession two-step" that involves two main components: ownership and management. You need to untangle these two components. Otherwise, it's too messy and complicated to deal with.
Yes, that's probably what has held you back, trying to do them both at once. Now that you know, we can take action.
Figure 12.1: The Succession Two Step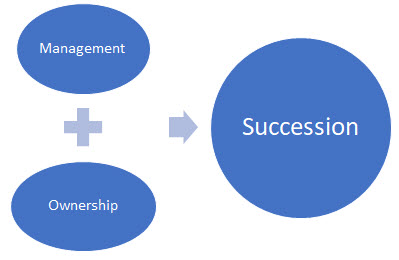 Here are the main steps to prepare a succession plan in six hours or less, as per my Six Hour Succession™ process. (Note: your actual mileage may vary.)
Let's start with management. Assess your current management team for the level of skills and expertise they possess now and that they will need in three to five years as you reduce your duties or exit. The purpose is to identify the gaps.
Next, develop a plan to fix the gaps. Do you need to hire external talent, train existing talent, or both?
From your management team, who are the potential successors for leadership? It's best to have more than one candidate. It's important to have discussions with them so they are aware of their potential, that there are no guarantees, and that you will do what's best for the company (and not necessarily the family).
Now, let's talk about ownership.
What is your business worth? Your accountant can help to prepare a valuation. Remember that a valuation is the price floor in an external transaction so don't share this with a potential acquirer.
If you plan to exit ownership, you need to identify the ideal and potential acquirers. There are three types: family and employees; private equity and financial buyers; and strategic buyers such as larger companies or competitors. They all have their pros and cons. Their pockets get deeper as you move down the list.
If you plan on selling your company, hire a professional who does this all the time. You probably used a real estate agent to buy or sell your last house. Your business is probably worth ten for fifty times what your house is worth, so use a professional M&A expert.
If you plan on retaining your ownership position and exiting management – which can be an excellent alternative to retain an income stream and grow your business asset – then you need to formalize governance to guide and direct management from your board position.
If you have good governance, your business will also be more valuable to a potential acquirer or investor. Good governance is always a good investment.
Succession planning is a process that helps you to create and protect your business wealth and take care of your family, your employees, and your company.
EMW Industrial began the process many years ago and has benefited from huge growth because they proactively worked on both management and ownership.
How are you going to start your succession plan?