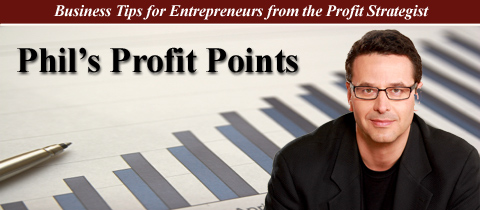 Your existing customers like you and trust you (or they wouldn't still be your customers).
The easiest way to increase your profits is to keep in regular contact with your customers. All of your customers would probably buy more of your product and service from you if they knew all the different things that you do (don't assume they do).
Too often, I've seen good entrepreneurs chasing more sales from new prospects instead of taking more time to learn more about their existing customers' needs and wants. Chasing new sales is expensive, time consuming and inefficient.
Here are six tips for increasing profits from your existing customers:
Develop a special offer exclusively for your existing customers. This could include an upgrade to their current product or service, or a new add-on to what they already own or use.
Host a breakfast or lunch meeting to find out what is on their minds. Then, develop what they are asking for and provide it to them.
Ask your best customers why they do business with you and then put that information into your marketing collateral, web-site, blogs and sales conversations.
Conduct a survey of your clients to determine their current issues, challenges and needs in their business and then position your products and services to address their needs. A survey can have a broader reach and you can get faster feedback.
Measure your profitability by customers. Some customers will be more profitable than others. Replicate your success.
Ask your best customers to allow you to test your new products and services on them and give you feedback. They will be honoured to be asked and this can strengthen your relationship.
Bonus point – ask your customers for referrals so that you can provide similar value to their friends and this will reflect positively on them. Many customers don't know how to refer to you until you educate them.
The fastest way to increase your profits is to provide more value to your best customers. It's low risk, high ROI.
Copyright 2011. All Rights Reserved. Phil Symchych