It's back to school time! Are you growing and learning in your business like you did back in your school days?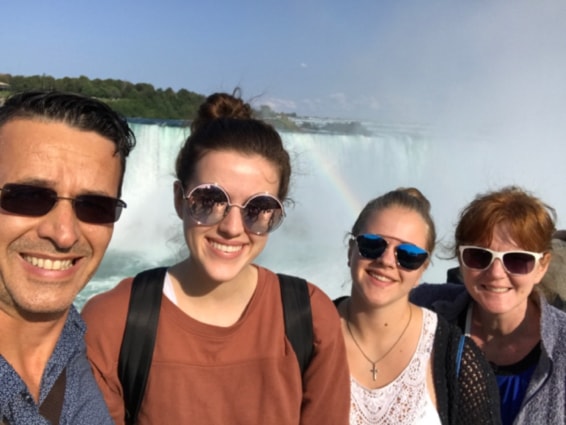 Back to school family picture at Niagara Falls a couple of years ago.
Today's lesson is: "The ABCs of Growing your Business." Here are more than 26 ideas to implement and help you increase your business and financial performance and build your business wealth.
Which of these are you already doing and which can you implement to drive your growth?
ANNUAL REPORTS make you appear larger than your present size and enhance your credibility because they demonstrate that you think and act like a big company. These include the President's message, Management Discussion and Analysis of historical results and future plans, and risk mitigation.
BRANDING is your customer's perception of your quality and value based on what you do and how you interact, every day. This includes their initial impressions, the pre-sale and sale experience, delivery, follow up, and what you do to keep the relationship strong and positive.
COSTING is based on many accounting estimates about overhead, labor, materials, and time that can distort your true costs. It's important to know your real costs so you can set prices properly and determine which products, services, and customers have the most potential.
DAYS TO CASH measures how long it takes you to convert your payroll, direct expenses and overheads into cash received from a sale. What is your Days To Cash?
Tracking your EBITDA and normalizing it to remove indirect or tax driven expenses will help you to focus increasing the value of your company.
A FLASH report measures your daily (preferred) or weekly (at a minimum) sales, production, and cash flow. This is a very powerful tool where you get the management team together in the same room looking at the same information at the same time and figuring out how to do things better.
GROWTH is good. If you're not growing your shrinking. But let's define healthy growth: your profit and bottom line are growing as fast or faster than your top line; your foundation is getting stronger because your building your balance sheet (and not minimizing taxes), and your brand is getting bigger as you develop new ways to take care of your customers.
Let's get personal and talk about your HEALTH. You're as valuable as a multi-million-dollar athlete, if not more valuable, because there is only one of you running your business, paying your employees, and serving your customers. Are you in top condition physically and mentally so you're making the best decisions and enjoying life?
That's it for today's lesson. We'll continue the ABCs in future issues.