Business Owner's Scorecard®
Maximizing Performance and Value in Your Organization
Your primary role as a business owner/manager is to make decisions that provide value to your customers while enhancing the profitability of your company. Our Business Owners' Scorecard® will help you to increase the value of the business for shareholders and leave a legacy. Here are four steps and techniques on how to enhance your performance and value.
1. Clarify your strategy:

Strategy is about allocating and aligning scarce resources in a dynamic business environment in order to maximize the value you provide to your customers. It's about making decisions with incomplete information while minimizing your risks and leveraging your strengths.

Business strategy is often talked about but frequently not defined. The diagram attempts to define what strategy is (and what it isn't) by showing the linkages between the major parts of a strategy. A strategy isn't 'being all things to all people;' that's the absence of a strategy.

Strategy is the effective integration of your company's goals, values and purpose with your product/service mix, market focus and your core activities. You company does all of these things, intentionally or unintentionally, and then presents them to your customers. What you do isn't as relevant as how the customer perceives and receives value from what you do.

Your customers buy from you because you help them achieve business results. You have a lower cost, or you effectively differentiate your product from your competitors, or you are clearly focused on their industry and needs, or some combination of these. A good strategy forces you to make these choices because you can't be all things to all people.

Having a good strategy, and the systems to support it, will improve customer service and increase profits. A good strategy helps to focus managers and employees on what is important for your customers. And a good strategy helps your customers understand what you do and what you stand for. A good strategy makes good business sense.

2. The BOS Business Owner's Scorecard® Framework:

A business is its customers, people (i.e. human resources), operations and finance.

Another way to look at this is with a formula: Customers + People + Operations = Profit. Profit is the end result. Therefore, we can't easily manage profit but can only manage the factors that create profit. Our marketing attracts customers and sets pricing and product features. Our people perform internal operations to serve our customers. The most effective way to manage a business is to measure and manage each of the factors. This is the foundation of the Business Owners' Scorecard. Your strategies need to specify the critical success factors for each part. Your systems need to support and measure each part. Most business can be managed with a half dozen measures, and one or two high level measures can give you daily or weekly control of your entire business.

Many systems focus on the financial results. But the financial results are exactly that, they are the end results from the effectiveness and efficiency of the first three components of your business. The first three components are the ones that managers focus on every day.

3. Business and Strategic Planning Outline

The purpose of this section is to provide an outline of the steps involved in analyzing your business and developing strategic and operational plans. This process helps you to tie all the pieces together so that you have control over the entire business (and so that your business isn't controlling you).

3.1 Environmental Scan:

External analysis of the political, economic, social and technological issues to determine opportunities and threats.
Internal analysis of strengths and weaknesses.
Industry analysis using Porter's Five Forces to examine barriers to entry, power of suppliers, power of customers, threat of substitutes and current level of rivalry among industry competitors.

3.2 Goals: what are your business goals?

Some examples include the following:

Improving value to stakeholders, customers and owners.
Increasing sales revenue or profits.
Expanding service offerings or volume of service.
Succession planning, reducing hours worked, improving quality of your life.

3.3 Assess current strategy:

Alignment of goals
Using strengths to pursue opportunities
Product/market focus
Core activities
Value proposition

3.4 Critical Success Factors (CSFs):

What must we get absolutely right
What are our customers' key industry drivers
Who are our optimal target markets

3.5 Key Performance Indicators:

How do we measure the CSF's

3.6 Obstacles:

What could go wrong
Contingency plans

3.7 Resources required for each critical success factor:

What resources are required
Resources available
What are the gaps
What alternatives do we have for closing the gaps

3.8 Management's preferences:

This is the most common overlooked part of strategy
What are the owner/manager's personal preferences, assumptions, natural bias, experience bias
For example is the company focused on revenue growth ("more is better") or profit growth ("less might be better"), does the manager focus internally on operations or externally on the customers and the market

3.9 Organization:

History
Relationship to founder
Leadership
Structure and Management processes
Culture

3.10 Decision Making and Action Plans:

Goals and objectives
Alternatives
Advantages and Disadvantages
Decision on action
Timelines and Metrics
Resources
Individual and team responsibility and accountability
Monitoring of progress
Continual refinement
4. BOS Business Owner's Scorecard™ Management System
The purpose of this page is to take the information gathered from the prior questions and to categorize it using the BOS™ Framework. This helps you to identify linkages and critical factors that are important to several areas of your business and identify any gaps that may be reducing your efficiency or effectiveness.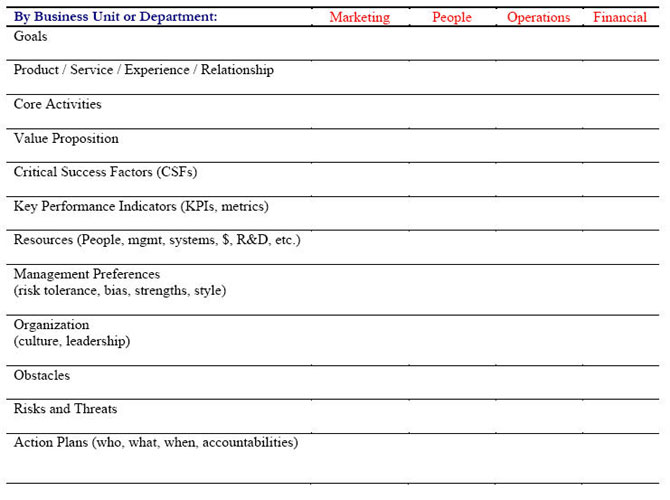 Click here for PDF version of the Scorecard